News & Events
Thanks to everyone who stopped by to learn more about Kaden & Kai at the Boston Open Markets at Copley and Newbury, the Greenway, SoWa, Somerville Flea and at the Plymouth Holiday Market.
We look forward to seeing you at the markets again next year!
Until then, look for us at these upcoming special events.
 Kaden & Kai will be there on Sunday December, 18th!
We hope to see you there.
_______
News
Proud Member and Contributor Since June 2021
Kaden & Kai is pleased to announce our continued membership to 1% FOR THE PLANET. For every Kaden & Kai Bicycle Tube necklace, bracelet or earrings, a percentage will go to this great cause. 
To learn more about 1% FOR THE PLANET and the causes, they support, visit https://www.onepercentfortheplanet.org/
  ______
Mass Markets Over Mass Marketing, Explained by Makers and Vendors
In the wide world of fairs and ideal spots to cop cool crafts and vintage goods, New England Open Markets plays a major part in this region's second hand economy. Their wide range of vendors, local artists, and vintage dealers brave the cold in Back Bay and elsewhere for your browsing convenience, making for a fun experience every outing.

We asked some of the open market favorites, most of whom you will see at fairs including those listed below, about everything from inspiration to sourcing…View the full article.
______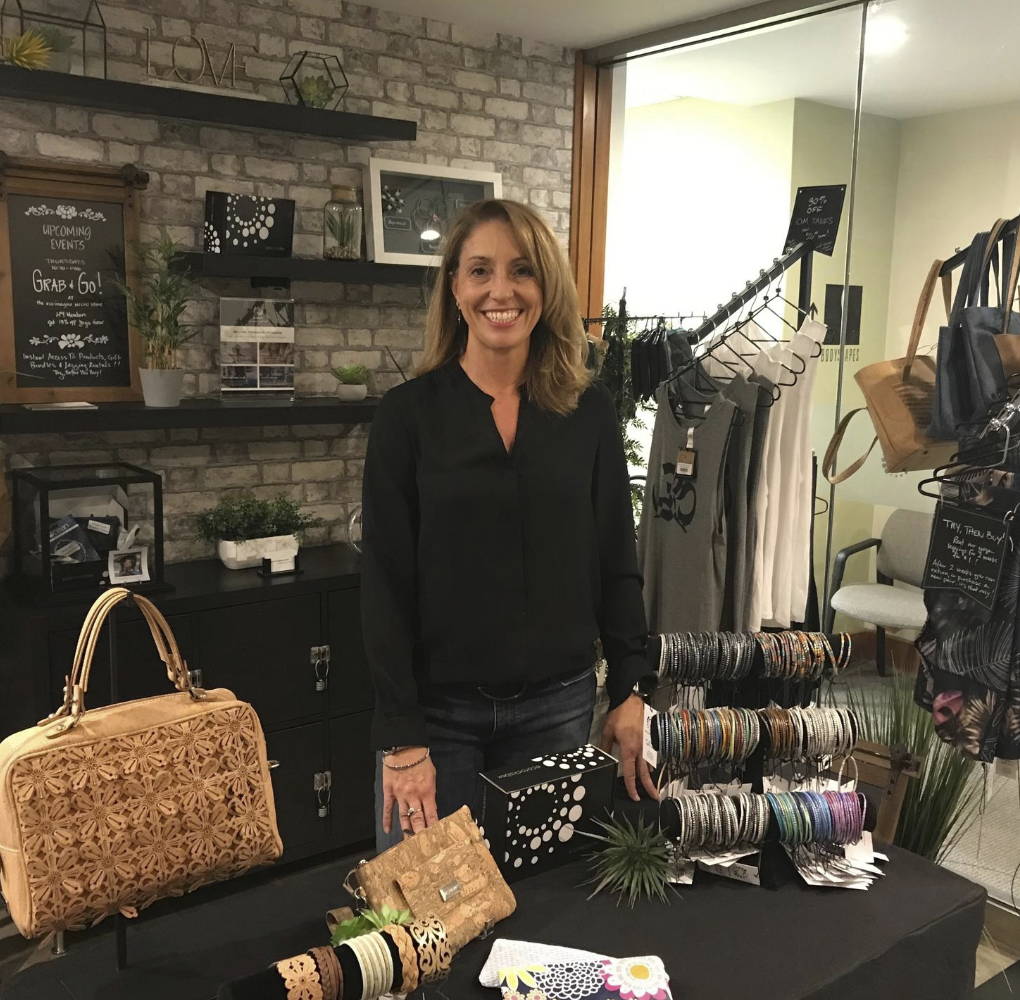 [Before Kaden and Kai, there was ecoimagine.]
New Lexington Business Sells Clothes Made from Plastic Bottles and More
Written by Ross Cristantiello, Lexington Minuteman and Wicked Local Lexington
What do rubber flip flops, bicycle tubes, cork and stray shards of glass have in common? They're not just cheap goods meant to be easily discarded, they are the basis for the boutique items on sale at ecoimagine. This new store, run by Lexington resident Lisa Cassidy, sells leggings, sunglasses, purses, bracelets and more, mostly made from recycled materials. Cassidy, who moved to Lexington eight years ago with her family, spent most of her career as a consultant in the recycling industry, helping companies decrease their waste and impact on the environment....One day, during a yoga class, Cassidy complimented another woman on her vibrant leggings. Cassidy found out they were made from recycled water bottles, and an idea began to form.
Continue on Wicked Local Lexington
______
How an Online Course Empowered One Entrepreneur to Launch an Eco-Friendly Boutique
Written by Lauren Landry - Harvard Business School Online Blog
Lisa Cassidy wants to change consumers' mindset. It's been a thread of her career since her first job out of college."I've always been looking for purpose," Cassidy says. "I've always had this pragmatic idea of, 'If something could be recycled, why wouldn't you just do it? She first explored this concept while working in conservation for what's now New England's largest energy provider, Eversource, before transitioning into a marketing role at PW Power Systems, a company that delivers power to industrialized and developing countries. She later founded a consulting firm that promoted green companies, products, and initiatives, before launching an eco-friendly brand of her own—an online boutique called ecoimagine.
Read more via the Harvard Business School Blog
Lisa Cassidy Speaks at the Harvard Business School Spangler Center
On May 9th, Lisa Cassidy presented to a crowd of ~100 administrators and professors at the Harvard Business School to discuss the evolution of ecoimagine from a consulting business to an online retailer as a result of her participation in Harvard online business school program.
Past Events
_________
Kaden & Kai at the Boston Open Market on Newbury Street
In partnership with the Friends of Copley Square, the Boston Open Market takes place every Saturday, May through November from 11am-5pm. 
The market will feature 60-80 artists, makers and designers each week, highlighting the areas freshest local talent.
Kaden & Kai is excited to be part of this exclusive group of
 artists, makers and vintage dealers.
___________
Kaden & Kai at SoWa Open Market
If Boston was a person, SoWa would be its creative side. Its independent streak. Its curiosity. Because here imagination has created a corner of the city filled with the eclectic and the unexpected. Where one-of-a-kind galleries, showrooms and boutiques are run by one-of-a-kind people. Where designers innovate and makers make. People don't just visit SoWa. They live it.
Originally derived from a shortening of "South of Washington," SoWa spans the area from East Brookline Street to East Berkeley Street and from Shawmut Ave to Albany Street. Ample
parking
is available and public transportation includes the Broadway, Tufts, and Back Bay stations, and the Silver Line. The location address is: 500 Harrison Ave, Boston, MA.
Explore your creative side. Explore SoWa.
Learn more about SoWa Open Market